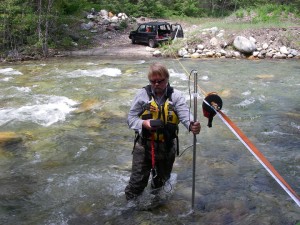 This website provides information about Salmo Watershed Streamkeepers Society (SWSS), Streamkeeping and the Salmo River Watershed.  It includes stewardship and awareness activities, provides access to our Reports, and indicates how you can help the Salmo River by supporting SWSS.
The SWSS is a charitable organization dedicated to ensuring swimmable, fishable, drinkable waterways. SWSS focuses on the Salmo River Watershed, an interior-rainforest, located in the West Kootenay, British Columbia, Canada.  Our outreach program, The River Speaks, connects SWSS to the Columbia Basin and the larger regional, national and international community.
We envision a Salmo River that is clean and healthy, provides safe drinking water, supports a diverse range of species, and enables sustainable economic activity.