Streamkeeper Coordinator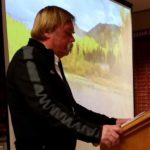 Gerry Nellestijn is a strong social science-based voice for the Salmo River, acting as its Coordinator since its inception in 1997. Gerry has significantly raised the profile of the Salmo River and brought important issues such as watershed planning, the decline of fish populations, and the impact of the historic mine tailings to the attention of the public and decision-makers. The Salmo Watershed Streamkeepers Society is regularly called on to comment on issues that impact the River and to provide insightful solutions and recommendations to improve the health and future of aquatic ecosystem health in the Salmo River watershed.
Gerry earned an anthropology degree at the University of Western Ontario. He also completed a post-graduate Environmental Management program at the University of Calgary in Alberta.
Gerry's compelling leadership and collaborative approach has brought excellent results to the Salmo River through networking and partnerships with key players throughout the watershed and region. Gerry has sat on a number advisory committees including the Upper Columbia White Sturgeon Recovery Initiative and Michelle Mungall's (MLA, Nelson-Creston) Columbia River Treaty Advisory Committee.
He believes the Columbia River Treaty is "the single most important opportunity we will have in our lifetime to make real Environmental change".
He continues to give a message of Stewardship Ethics, Principles and Values to community everywhere.
Environmental Assistant
Eleanor Duifhuis first volunteered for the Salmo Watershed Streamkeepers Society in 2016. Joining this community-based stewardship organization has given her the opportunity to increase her field technician skills and has also further her integration into this local stewardship society.
Eleanor first received a Technical Diploma in Renewable Resources: Fish, Wildlife and Recreation from the British Columbia Institute of Technology in Burnaby, BC., known for its hands-on teaching and practical learning approach to various field techniques. She then graduated from the University of Northern British Columbia in Prince George, BC, with a Bachelor of Science in Natural Resources Management. This highly academic program provided an in-depth, theoretical background to many facets of biology and environmental sciences.
Becoming a SWSS Technician in 2017, her recent activities have included monthly water quality monitoring at Sheep Creek, which included calculating discharge, determining dissolved oxygen content and turbidity, and taking samples to be sent off for analysis. Currently, Eleanor is taking part in environmental work and discussion regarding local sustainable mining practices.
Administrator
Carrie Nichols Add copy here.