An important conference centered around a sustainable, ethical and respectful management of the Columbia River Basin will be happening at the Selkirk College – Castlegar college on May 30-31th. The 2019 One River, Ethics Matter conference will explore remedial options through respectful dialogue and further public education specifically regarding the Columbia River Treaty by the following considerations:
adding a third Treaty purpose co-equal to existing Treaty purposes of hydropower and flood control, and
new approaches to ethical governance of the river that strengthen river and community resiliency, restore salmon and other fisheries, and right historic wrongs done to the Upper Columbia River region, indigenous peoples, and other citizens of the watershed.
SWSS's coordinator, Gerry Nellestijn will be one of the guest speakers. Many experts, First Nation representatives and other influential people will be present for what should be a very constructive and insightful conference.
This a FREE event and is open to the public. For more information and FREE registration, visit this link.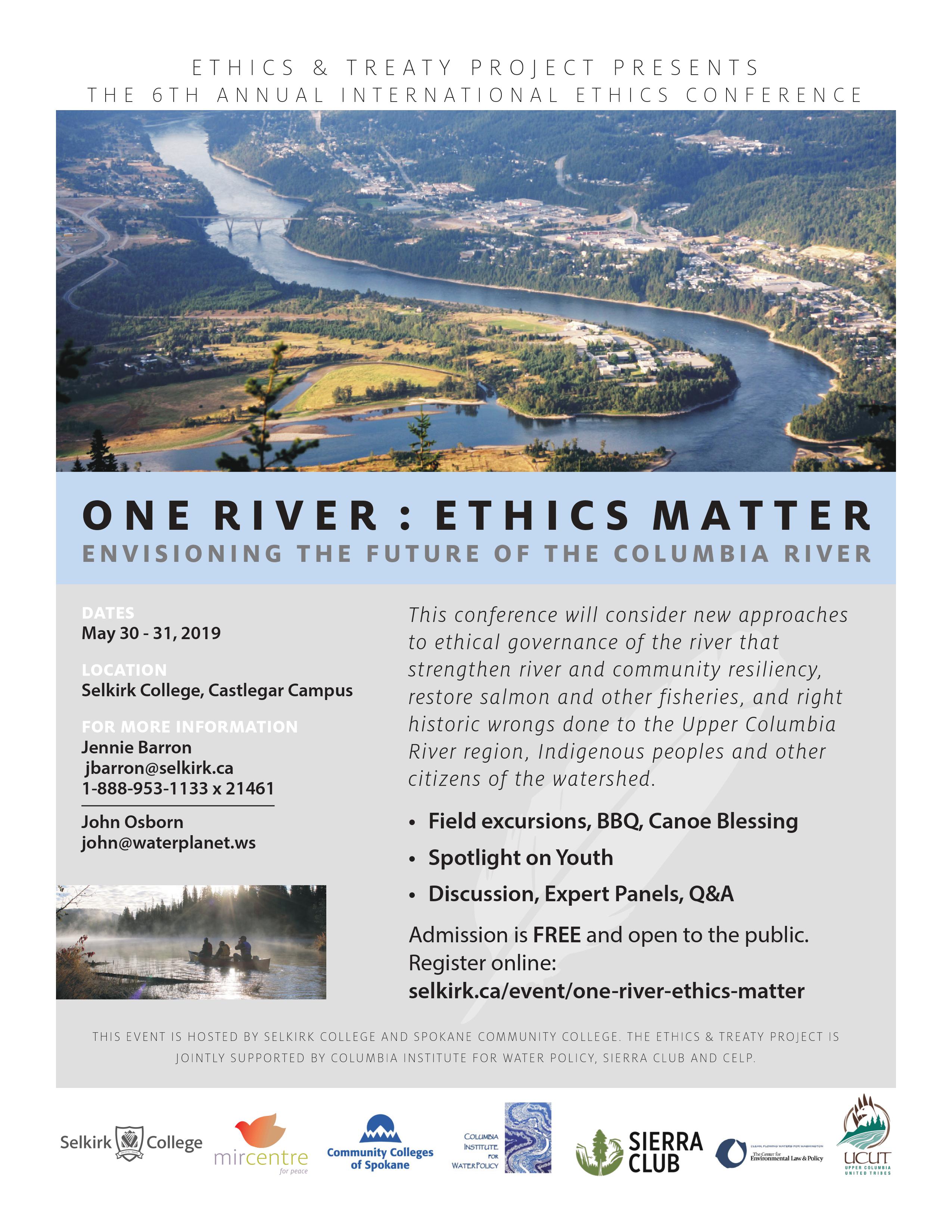 ---
Here is the schedule of the event. For a full description of the schedule, visit this link.
Thursday, May 30
10 – 1 p.m. Field Trips (Rain or shine) (Meet at front entrance of the College)
Option 1: History Tour
Option 2: Hiking Ecology Tour
Option 3: Canoe paddle through the navigation lock at Hugh Keenleyside Dam
1 – 2 p.m. Lunch Break – Bring your own
2 – 4 p.m. Spotlight on Youth Program (all ages encouraged) – Staff Lounge
4 – 4:30 Walk to River
4:30 – 5:30 p.m. Blessing of the Salishan Sturgeon Nose Canoe (at water's edge)
6 p.m. BBQ at the Mir Centre for Peace ($15, pre-registration required)
7 p.m. Circle Introductions around fire (Mir Centre)
Friday, May 31
8 – 8:30 a.m. Registration (front entrance) & Coffee (outside Sen-113)
8:30 – 9:15 a.m. Opening, Prayer & Welcome (Sen-113)
9:15 – 10 a.m. Panel – Rivers of our Moment (Sen-113)
10 – 10:15 a.m. Break
10:15 – 12 p.m. Panel – Rivers Through our Memory (Sen-113)
12 – 1 p.m. Lunch
1 – 2:15 p.m. Break Out Groups – Rivers of our Vision
Room A: Treaty and Governance (Gathering Place)
Room B: Ecosystem Function (Staff Lounge)
Room C: Salmon Recovery (Kok-11)
2:15 – 2:30 p.m. Break (The Pit)
2:30 – 3:45 p.m. Panel – Rivers as our Responsibility (The Pit)
3:45 – 4 p.m. Closing (The Pit)